Winter Lights, Holiday Lights!
November

26

,

2018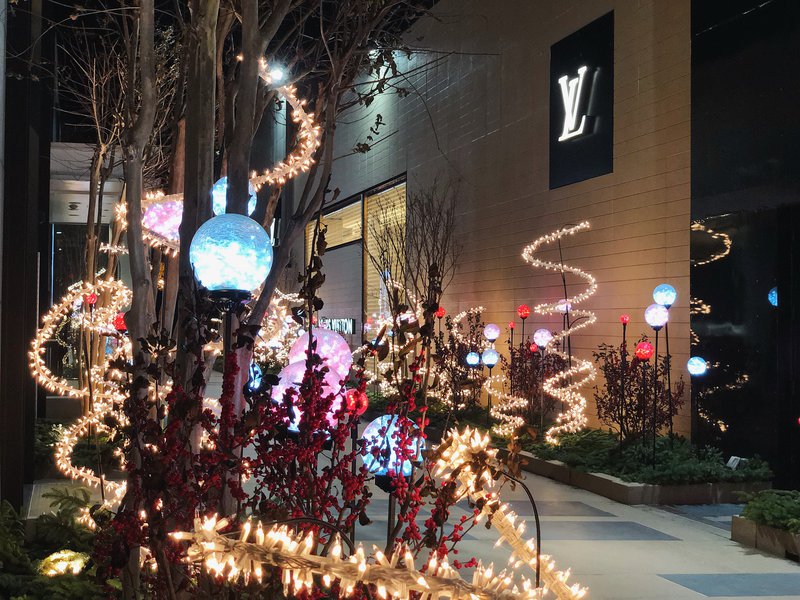 Just as each December ushers in the Champions for Charity shopping extravaganza, so, too, does another highly-anticipated pastime come to life: the launch of our holiday lights.
Americana Manhasset shines bright this holiday season with festive decorations and over half a million lights adorning our boutiques, breezeways, light fixtures and objets d'art.
Created exclusively for Americana Manhasset and designed to complement the Peter Marino-designed architecture of the center, each decor item was hand crafted and assembled by Carl Olivari, a seasoned holiday lighting specialist who has been featured on the PBS holiday lighting documentary, "Dyker Lights."
Throughout the center, look for such unique metal and light sculptures as fluff balls, snow globes, twisters, snow swirls, spheres and sparkle berry balls. 
Highlights of this year's holiday light show include:
-Over 115,000 lights positioned at the main entrance via a series of illuminated fluff balls and a sphere collection of steel-and-light snow balls that glow red at night to complement the landscaping.
-A ribbon of 47,500 undulating lights that adorn the trees on the south side entrance of the center.

-The wrapped trees that surround the property are designed to evoke a feeling of being "hugged" while shopping or dining at the center. The Gucci and Louis Vuitton entrances boast eight wrapped trees that feature brilliantly-lit branches, totaling 32,000 lights. Behind Gucci stands a holly tree adorned with approximately 100 sparkle berry balls. Over by Cipollini, eight wrapped trees boast 20,000 lights making for a warm dining atmosphere.
-In the Cipollini Pronto breezeway, as well as right outside Chanel, a bevy of snow globes and snow swirls pepper the landscaping. Each snow globe is crackled glass ball containing between 50 and 400 LED lights, depending on its size, for  total of 60,100 LED lights. Snow swirls, the up-twirling swirls of snow in a winter storm, are lit with 300 to 1,200, lights, depending on its size. Finally, by the wisteria trellis in front of Max Mara, 160 red LED crystal hanging spheres glow in the night, totaling 6,400 lights.
This holiday season, we invite you and your loved ones to experience the scenic beauty and magical atmosphere that is uniquely Americana Manhasset.