Hirshleifers Hosts LL Cool J for an Evening of Fun and Fundraising
December

3

,

2016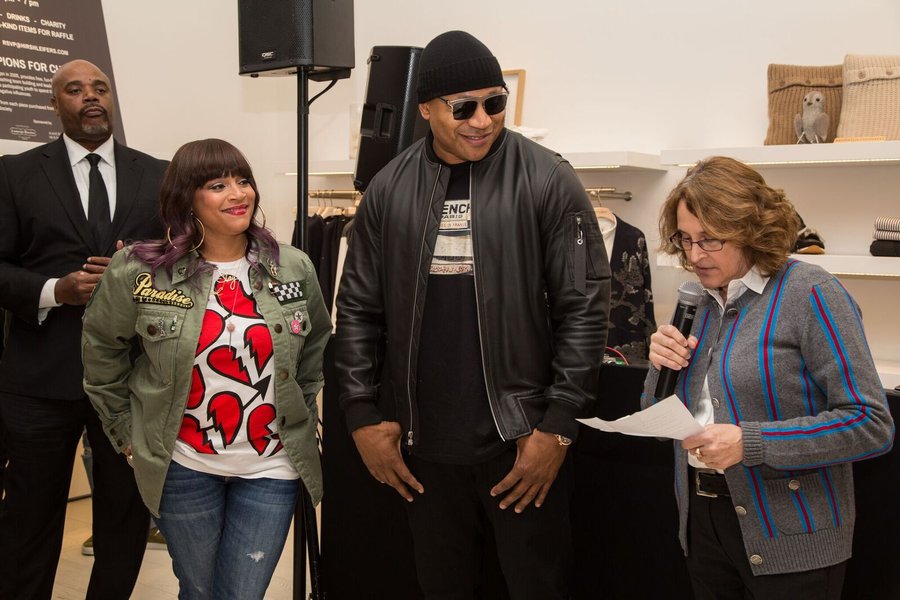 "I just simply want to pay it forward. I'm not going to beg; I'm going to bootstrap."
Strong words from a man with true conviction, LL Cool J delivered a powerful speech at Hirshleifers, where he hosted a special evening with him and his wife, Simone I. Smith, benefiting their Jump & Ball charity for underprivileged, inner-city youth.
The December 3 event, which took place over Champions for Charity, drew hundreds of fans, supporters, clients and family to, simply put, shop for a cause. LL Cool J, a Bayshore, Long Island native, happily posed for photos with attendees--many of whom picked up a necklace or pair of earrings from his wife, Simone's, line of stylish yet affordable jewelry pieces.
"It's not always about turning people outside down to shake the change out of their pockets," LL Cool J said to the crowd gathered in the Brunello Cucinelli shop. "Sometimes it's just about paying it forward a little bit."
As part of the night's festivities, Hirshleifers graciously donated more than one dozen items from its many luxury vendors to a special silent auction with raffle proceeds benefiting Jump & Ball. They included such big-ticket items as a Moncler coat, signed vintage LL Cool J vinyls, a suite of Roger Vivier accessories and bags from Chanel, Stella McCartney, Alexander McQueen and Christian Louboutin. 
"Ultimately, it gives these kids something to look forward, they get to discover that teamwork makes the dream work, that being part of a team can lead to something constructive," he added.
For LL Cool J, who's remains a sought-after musician, rapper and entertainment impresario, the dream of making it big has become a reality many, many times over--something which he recognizes every day.
"I do ok, trust me," he said sheepishly. "Now, go shop, shop, shop, shop!"