Pride in Our Fashion Community
April

7

,

2020
From major donations to hospitals, to pledges to help small business, to creating personal protective equipment and masks for those on the front lines, our fashion community has come together in amazing ways to combat the effects of the coronavirus pandemic.
Americana Manhasset and Castagna Realty are supporting the healthcare heroes on the frontlines of our local hospitals, with weekly deliveries of healthy snacks and beverages, as well as masks created by our Personal Shopping team in partnership with Sew4Lives.
At Americana Manhasset, we are proud to share how our retail partners are rolling up their sleeves and giving back.
The Council of Fashion Designers of America (CFDA), the not-for-profit trade organization, together with Vogue, launched A Common Thread, a storytelling initiative that seeks to raise awareness and funds for those impacted in the American fashion community. Among the first to pledge his full support was Ralph Lauren, whose corporate foundation pledged $10 million toward global response efforts, with $1 million earmarked for the CFDA/Vogue Fashion Fund. In addition, Ralph Lauren Corp. has green lit production of 250,000 masks and 25,000 isolation gowns with its U.S. manufacturing partners.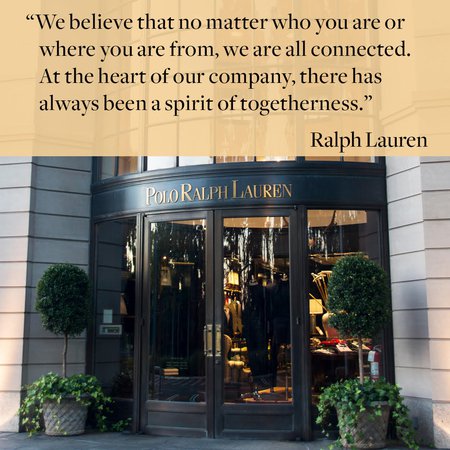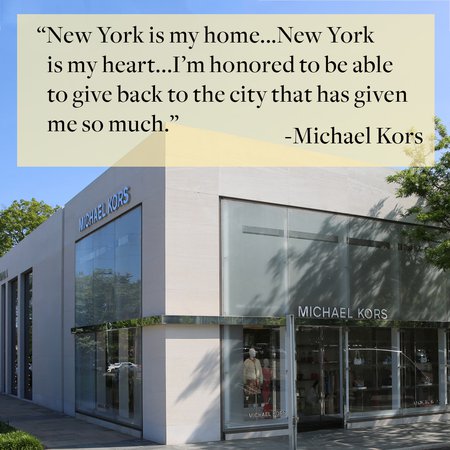 Over at Capri Holdings, with its international roster of brands, including Michael Kors and Jimmy Choo, the company donated $3 million toward COVID-19 relief — with each group's donations targeted to each brand's home town. Michael Kors pledged $2 million to New York City groups (a combined donation from the label itself as well as personal donations from founder Michael Kors and Capri ceo John D. Idol), including NYU Langone Health and New York-Presbyterian, as well as the nonprofit God's Love We Deliver and the CFDA/Vogue Fashion Fund. In London, Jimmy Choo pledged $500,000 via the National Health Service COVID-19 Urgent Appeal by NHS Charities Together and The World Health Organization's COVID-19 Solidarity Response Fund. Fellow Brit label Burberry has fast-tracked the delivery of more than 100,000 surgical masks to the UK National Health Service, retooled its trench coat factory in Yorkshire to make nonsurgical gowns and masks for patients, and funded research into a single-dose vaccine being developed by the University of Oxford.
Tory Burch and Pierre-Yves Roussel, her brand's ceo, are spearheading the CFDA's efforts (including galvanizing 90 industry leaders) to lobby the federal government for relief for the fashion industry. In addition, the Tory Burch Foundation Capital Program received a $100 million pledge from Bank of America to help female entrepreneurs get access to much needed capital.
Lafayette 148, based in the Brooklyn Navy Yard, is working with other design/manufacturing firms and sewing shops on a production line set up at the Navy Yard by New York City to make surgical gowns for health care workers.
Another iconic American brand jumping into action is Tiffany & Co., which announced that its foundation will give $1 million in donations, including $750,000 to the World Health Organization's COVID-19 Solidarity Response Fund and $250,000 to The New York Community Trust's NYC COVID-19 Response and Impact Fund. Tiffany will also match all employee donations made to "qualified nonprofit organizations" that support COVID-19 response. This comes as Brooks Brothers, our country's oldest retailer, reopened its three U.S. factories to produce upwards of 150,000 protective masks and gowns. Coach parent Tapestry, Inc., meanwhile, pledged $2 million from the Coach Foundation to support NYC Department of Small Business Services Small Business Continuity Fund. Tapestry's foundations will also match gifts made by its employees in North America to qualified charitable COVID-19 causes, while The Coach Foundation will make an additional contribution to an organization crowd-sourced by employees in North America.

Every effort counts when it comes to helping others. To wit, Intermix parent company Gap Inc., in addition to pledging $1 million to non-profit organizations, has also pivoted its factory partners to make personal protective equipment (PPE) for frontline health care workers. Hirshleifers has been busy sewing masks and sending them off to local Long Island hospitals. During the month of April, London Jewelers is supplying meals to the courageous healthcare workers at North Shore University Hospital, Glen Cove Hospital, and LIJ Medical Center on Long Island, as well as Mount Sinai Hospital and NYU Medical Center in Manhattan. Theory parent Fast Retailing is also working with its manufacturers to produce 10 million protective masks. Alice + Olivia has mobilized its design teams, production teams and factories to create and distribute protective masks to hospitals and communities in need. the first round of 5,000 masks will be distributed to Lincoln Hospital and Montefiore Medical Center in the Bronx, Safe Horizon - a center in New York City for victims of abuse and Vincere Cancer Center in Arizona. And while not retail in the traditional sense, Tesla, which joined the Americana family in 2016, donated 50,000 N95 surgical masks and thousands of ventilators — with a promise of 250,000 more N95 masks.
Under the nurturing guidance of the Castagna family, Americana Manhasset has come to represent the best of both American and international retail — the latter, whose many home nations, chiefly Italy and France, have also been deeply affected by COVID-19. Ever resilient, these powerhouses have put the full force of their brands behind the battle to save lives.
LVMH, representing the likes of Louis Vuitton, Loro Piana, Celine, Dior and Fendi, donated 40 million masks to the French health service. Fragrance production facilities for Christian Dior, Guerlain, and Givenchy have also been converted to produce large quantities of hand sanitizer. Locally, Fendi also supported Regione Lombardia and donated masks to Regione Toscana.
At Kering Group, home to Gucci, Saint Laurent, Balenciaga and Bottega Veneta, three million masks have been donated to the French health service. The company also donated an undisclosed sum to the Institut Pasteur, a non-profit dedicated to preventing and treating infectious diseases, while Balenciaga and Saint Laurent's French workshops have pivoted to making face masks. In addition, Kering has made contributions to three U.S.-based organizations, including $1 million to the CDC Foundation, and donations to the CFDA/Vogue Fashion Fund's A Common Thread as well as Your Friends in New York Want to Help.
Gucci ceo Marco Bizzarri is personally donating more than $100,000 to hospitals in the Emilia-Romagna region of Italy and, through Gucci, 1.1 million surgical masks and 55,000 medical overalls to Italy. Gucci also pledged $2.2 million to crowdfunding campaigns both locally and globally — allocated to the Italian Civil Protection Department and the United Nations Foundation's COVID-19 Solidarity Response Fund in support of the World Health Organization (WHO). In addition, Gucci has invited its community of social media followers to donate to the Solidarity Response Fund for the WHO, where all funds will be matched by Facebook as part of its "Matching" initiative.

Chanel made a $1.3 million contribution to an emergency fund for the public hospital system in Paris and French emergency services, and donated more than 50,000 face masks. Chanel has also drawn on its partner manufacturers, including 150 workers who sew for the brand's haute couture, ready-to-wear and maisons d'art workshops, to make protective face masks and gowns.
Several individual Italian powerhouse brands are also doing their part. Prada converted its factory in Montone to mask and medical production — with daily deliveries of 80,000 medical overalls and 110,000 masks to Tuscan hospitals. Brand co-ceos Miuccia Prada and Patrizio Bertelli also funded six new ICUs across three Milan hospitals. Giorgio Armani pledged $2.2 million to various hospitals in Rome and Milan and is making medical overalls for hospital workers at all its Italian factories. Bulgari helped fund the research department at the Istituto Lazzaro Spallanzani in Rome to purchase a microscopic image acquisition system to help fight and prevent the spread of COVID-19.
The Zegna family, together with the Group's top management, pledged personal donations to the Civil Protection in Italy totaling $3.3 million. The Zegna Group also converted part of its production facilities in Italy and Switzerland to the manufacturing of medical masks and protective hospital suits. Moncler ceo Remo Ruffini committed $10.9 million to assist with the construction of a hospital in the Fiera Milano area. Salvatore Ferragamo is manufacturing and donating 100,000 antibacterial masks, and providing 50,000 pieces of hand sanitizer and 3,000 FPP1 masks to local healthcare units in the region of Tuscany. At Valentino, the label's founder Valentino Garavani and his longtime business partner Giancarlo Giammetti donated, through their foundation, $1.1 million to the Policlinico Universitario Agostino Gemelli hospital in Rome. Valentino parent Mayhoola also donated a combined $2.2 million: half to Sacco Hospital in Milan; half to the Protezione Civile Italiana to support their efforts throughout Italy.

Last but not least, Wolford has shifted its production facilities in Bregenz and Slovenia, and is partnering with other Austrian companies to produce 8,000 medical face masks. Together with its main shareholder, Fosun, they donated 25,000 medical supplies to hospitals in Northern Italy.
We are so very proud to call these remarkable American and international brands our tenants and partners.